Ideas & Inspiration
Landscape Lighting Ideas for the Front of Your House and Backyard
Outdoor lighting makes a big impact on the look and feel of your home's exterior. Stair lights can illuminate your walkways and keep steps safer for you and your guests. Accent and decor lighting is designed to give your home a major design boost. With a bit of inspiration, you can easily create a lighting scheme for your front and backyard that promotes safety and dramatically enhances the look of your outdoor spaces.
This guide will offer a few landscape lighting ideas for your home, including outdoor lighting ideas for patios and decks and suggestions on where to place landscape lighting.
SHOP ALL LANDSCAPE LIGHTING KITS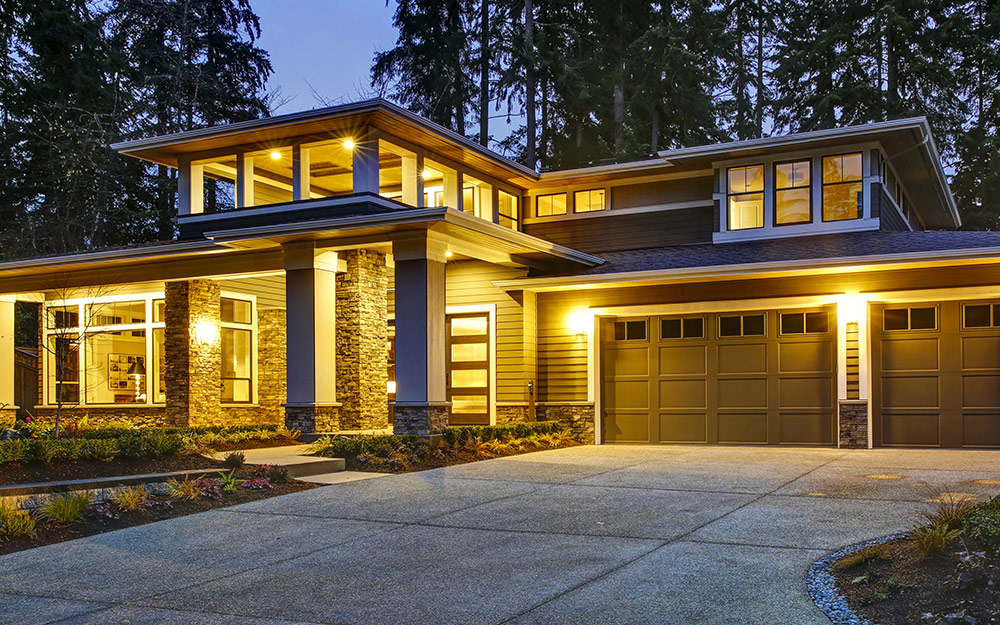 Flood lights and spotlights are often referred to as though they're interchangeable. While they do some of the same jobs around your house, they are different lights that should be utilized differently.
Flood lights
Flood lights cast a wide net of lighting, helping to illuminate larger spaces. A single or two-bulb flood lights are often considered the best landscape lights for larger driveways and parking areas, but this may vary according to your unique layout. There are a few things to remember about flood lights:
They're designed for lighting large areas. They're perfect for your driveway or carport.
They can light entire walls or large areas of landscaping where detailed lighting is not needed.
Some flood lights are motion activated. These are especially useful for driveways, garage doors and other utility areas.
Spotlights
Unlike flood lights, spotlights cast a focused beam of light. Here are a few things to remember about spotlights:
Since they cast a narrow beam of light, they're a great option for lighting architectural accents and are also ideal for tree uplighting.
You can use two spotlights to illuminate large areas by placing them on opposite sides. Aim them to meet in the center of a wall or point of interest for a dramatic visual effect.
Spotlights tend to be quite bright, so avoid pointing them toward a walkway or other common paths.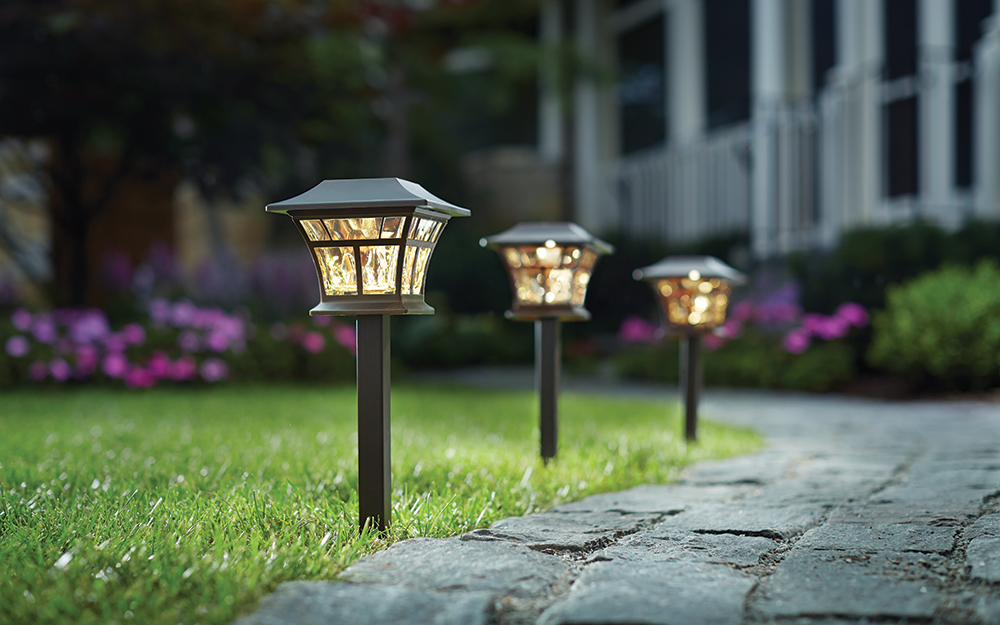 Your walkway is designed to guide you and your guests to and from your home and around the yard after the sun goes down. They can also accent your landscaping and make your home look inviting for visitors. Here are a few things to know about path lights:
Path lights should be spaced approximately 10 to 15-feet apart as a general rule of thumb. You may need more or less depending on your use of flood lights and spotlights or if you want a shorter, more narrow pathway.
When brainstorming path lighting ideas consider solar lights. These harness power from the sun to illuminate your yard. They often need to be spaced more closely together: 6 to 8-feet apart is a good starting point.
Try alternating which side of your path you place the lights on during installation. This will visually balance your walkway.
Path lights come in a variety of sizes, styles and finishes. Look for a style that complements the finishes in and around your home, like nickel, bronze, brass or matte black. Specialty colors like aged brass and oil rubbed bronze are available.
Consider a path lighting set. Simplify your exterior lighting by shopping for a set of path lights that can be used along any walkway. Some also come with flood lights for a complete setup.
Types of Path Lights
While all path lights serve an important function, there are different styles available depending on your needs. Here are a few of the most popular options:
Garden lights. These typically come with a shade and measure about 18 to 24 inches tall. They are typically curved downward, but some may have also a straighter appearance to accommodate your garden lighting ideas.
Downlights. These are similar to garden lights, but the bulb is usually concealed.
Bollard lights. These offer 360-degre lighting. They look like a vertical pole with the light source at the top. There are a variety of decorative bollard designs to fit your landscaping.
Flush lights. Typically installed as part of a driveway or walkway, flush lights sit flat on the ground with small cylinders above the surface. These can be beautiful, but they may be hard to install into hard surfaces like a brick walkway.
Low voltage lights. These lights come in LED varieties which are extermely energy efficient and cost effective. They use a simple, clip connector technology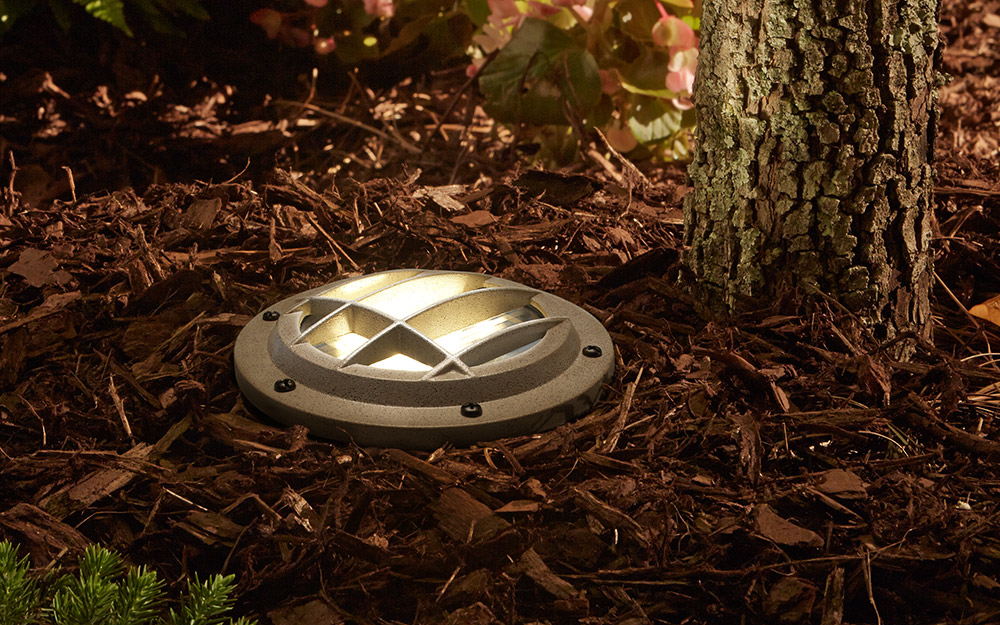 Well Lights
Designed to be placed directly in the ground as part of your exterior lighting scheme, well lights can add brighten your yard and garden areas, or be used as accent lighting to highlight shrubs, trees, plants and other decorative features around your home. Here are a few things to know about well lights:
Well lights are hardwired and typically utilize LED bulbs. 
They can be set to a timer and are easy to program for the entire.
Some well lights can be completely submerged in water. These can be used in and around pools to illuminate specialty fixtures.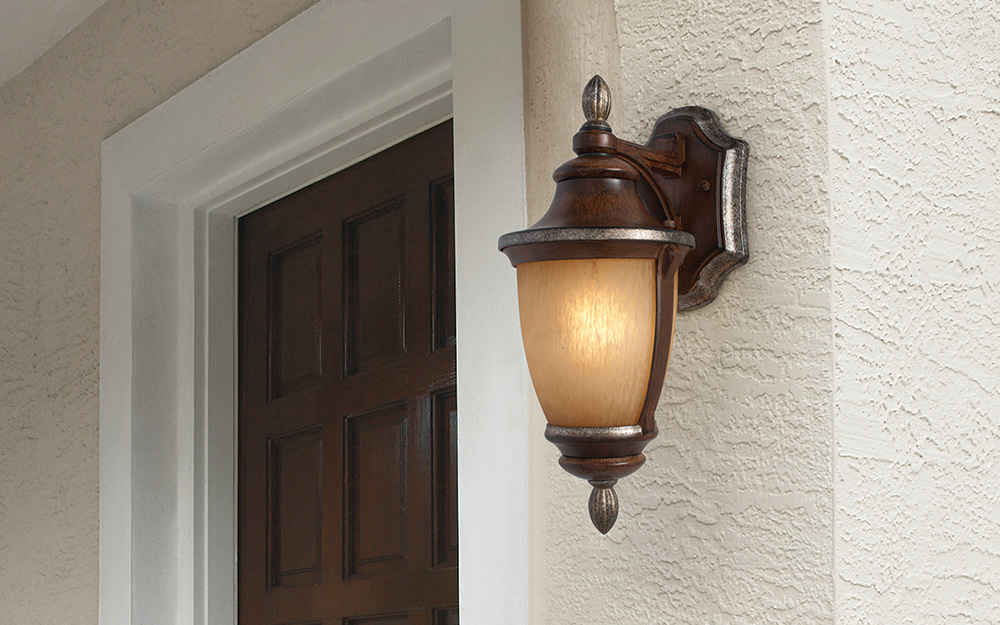 Wall Lights and Sconces
Wall lights and sconces add a decorative touch to your outdoor space and provide essential lighting. They're available in a variety of styles and finishes, so finding one that works with your decor is easy. Here are a few ways to use wall lights and sconces around your home:
Hang wall sconces by your front door. They'll provide the right amount of light for this area and can be coordinated to your design scheme. This will give your outdoor space more visual interest.
Add a wall sconce to your deck or patio. Wire these deck lights to a wall switch inside the house for quick and easy access.
Use wall lights and sconces around your garage for a simple and understated look.
Outdoor lighting plays a big part in the overall look and feel of your front and backyard. With a the right  techniques, you can turn the exterior of your home into an extension of your interior design. Use the landscape lighting tips above to mix and match the right type of lights for your landscape.